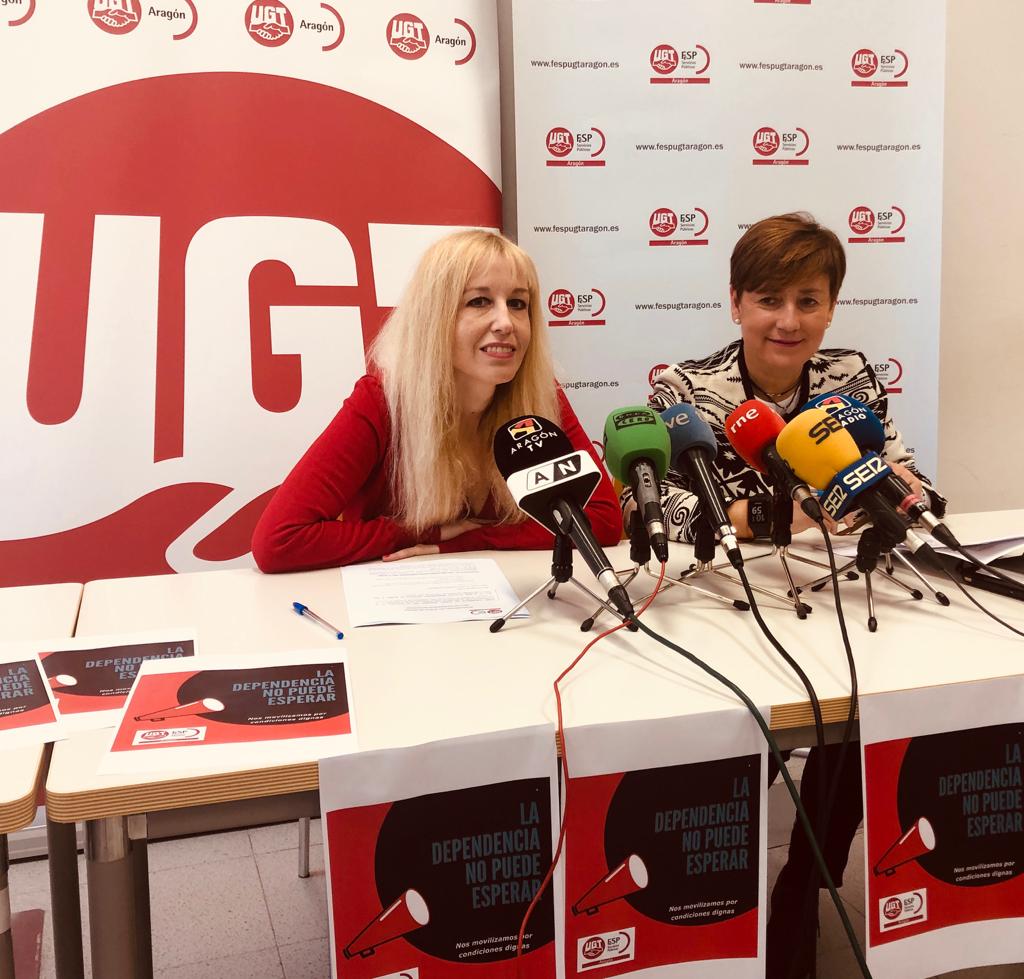 Все самое интересное на сайте: http://stroi-rukami.ru http://hold-house.ru http://samodelkami.ruhttp://samodelkinov.ru http://pro-nedvijimosti.ruhttp://sdelaisebe.ru http://investment-money.ru http://grand-construction.ruGo to top of pagehttp://build-dwelling.ru http://mending-house.ru http://grand-builder.ruhttp://poleznii.ruGo to top of page http://samodelnii.ru http://samodelnaya.ru http://lavandamd.ru
El sector de la dependencia, en el que trabajan mayoritariamente mujeres inicia movilizaciones por el "nulo interés" de la patronales en la negociación del convenio colectivo estatal, tras llevar un año sin presentar una propuesta, según han explicado esta mañana la Federación de Empleados de los Servicios Públicos de UGT Aragón y la Federación de Sanidad de CCOO Aragón. Ambos sindicatos han denunciado que existen doce categorías profesionales que no alcanzan los mil euros al mes y que las presiones y la sobrecarga de trabajo que padecen las trabajadoras están ocasionando el aumento de los problemas de salud y las bajas médicas, que rondan el 12 por ciento.
La secretaria del Sector Servicios Sociales y Servicios a la Comunidad de FeSP UGT Aragón, Angélica Mazo ha lamentado en una rueda de prensa la precariedad laboral en la que se encuentran estas trabajadoras, situación a la que se une las consecuencias de una legislación anticuada de la Comunidad autónoma que establece unos ratios insuficientes para prestar cuidados de calidad – Decreto 111/1992- y que no está adaptado a las necesidades de los dependientes. "El modelo de cuidados se ha entregado a las empresas y eso tiene cambiar" y ha asegurado que la atención que reciben las personas mayores es "buena" pero "gracias al sobre esfuerzo de las trabajadoras".
En Aragón hay 10.000 trabajadores en el sector de la dependencia que desarrollan su labor profesional en residencias de mayores, centros de día, teleasistencia y ayuda a domicilio en la provincia de Teruel y más de 20.000 dependientes atendidos en Aragón.
UGT y COO participan en la negociación estatal del convenio junto a las patronales LARES, CEAP, FED, AESTE y ASADE. Los sindicatos exigen incrementos retributivos para que en el año 2021 ninguna trabajadora perciba salarios por debajo de los mil euros, respetando así el Acuerdo para el Empleo y la Negociación Colectiva; la disminución de la jornada laboral anual – una de las más altas en convenios estatales con 1.792 horas anuales- así como, avanzar en permisos y licencias. La patronal no es sensible a ninguna de ellas y propone además la eliminación de derechos como suprimir el incremento salarial del IPC mientras no se firme el nuevo convenio y aumentar la carga de trabajo de los gerocultores a través del concepto de "polifuncionalidad" añadiendo tareas como poner el lavavajillas o incorporar tareas de limpieza.
A esta rebaja de las condiciones de trabajo se añaden la realidad en el día a día de los centros: la carencia de personal, que conlleva a una sobrecarga de trabajo, y que junto a la presión para hacer las tareas en tiempo (disponen de 12 minutos para levantar, asear y vestir a cada dependiente) les acarrea más problemas de salud y bajas médicas, sobre todo las relacionadas con lesiones musculoesqueléticas.
Mañana, miércoles en la sede de UGT Aragón en la C/ Costa se informará de esta situación a las trabajadoras del sector y se anunciará la convocatoria de una concentración el próximo 7 de noviembre a las puertas de la sede de CEOE Aragón.